Not all shirts are created equal; some wrinkle, some are soft, and some are so comfy it becomes your new favorite thing to wear. If you're getting ready to choose a shirt style for your next order, or if you're just plain curious, here's the difference between cotton, polyester, and all the various blends.
Cotton Fabric
A humble classic, this is the naturally made fabric everyone knows and loves; in fact, cotton fabric has been popular for centuries due to its soft, breathable feel. Cotton is also hypoallergenic, making it a must-have for those with sensitive skin and a safe choice for those wanting to get their T-Shirts to as many people as possible.
More of a visual person? Here's an example of a cotton shirt you may recognize: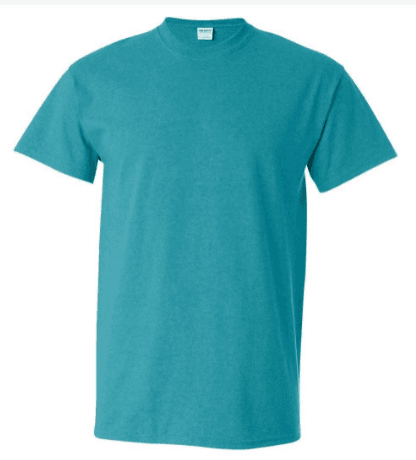 Polyester is a synthetic, moisture-wicking fabric that naturally repels water and dries quickly. A favorite among athletes, this material won't hold on to sweat like its cotton counterpart. Polyester is durable and won't shrink or wrinkle. Its ability to repel sweat and resist stains makes it a perfect choice for hitting the gym or joining a hotdog eating contest. You know, whatever you're into.
Check out our favorite Poly picks: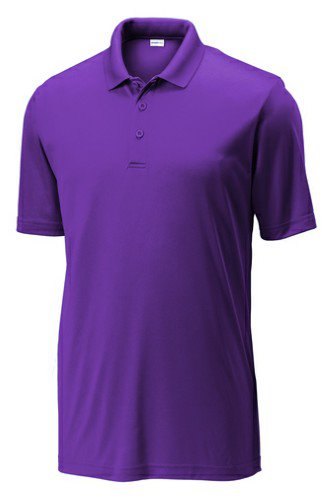 What are Fabric Blends?
If you're looking for the best of both worlds, you'll want to check out the Polyester and Cotton Blends (and their friend Rayon, which I'll introduce you to in a moment. A growing trend in the T-Shirt industry, blends offer durability and softness. There are three common blends that are growing in popularity:
50/50 Blend: AKA the Poly/Cotton blend, this is half Polyester and half Cotton
Chief Value Cotton (CVC): is a blend made with mostly Cotton
Tri-Blend: this blend is made of Polyester, Cotton, and Rayon, a cooling, comfy fabric. There's a lot to be said about Tri-Blend, so we've dedicated a whole section to it.
Blended garments are the perfect balance between durability and comfort: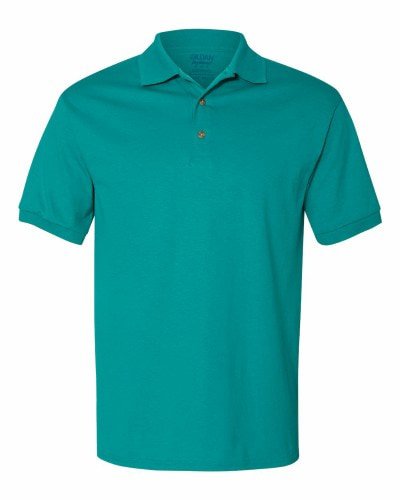 The Magic of Tri-Blends
Tri-Blend garments channel the best qualities of each material- softness, durability, and minimal shrinkage. They are also more stain resistant and light-weight than 100% Cotton garments. Because of the natural way this material receives ink, vintage or slightly faded designs look beautiful on this material blend. But, if it's a bright, vivid print you're looking for, that's best left to 100% Cotton or a 50/50 blend.
Check out our Tri-Blend garments for yourself!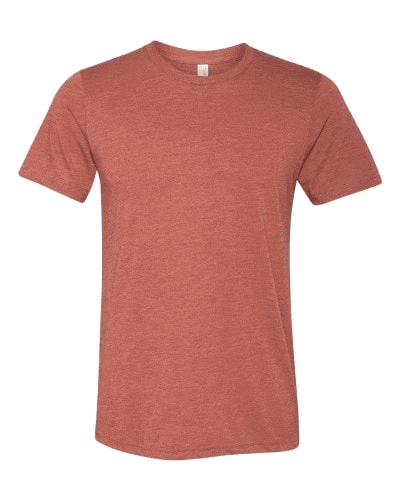 What Fabric Material is Best for You?
Clearly, each fabric type has its distinct advantages; so, which is right for your needs? To find out, you'll want to find the right combination of features. Something to note when choosing a fabric is the ability to customize it through screen printing, sublimation, and embroidery; the way you want to customize your fabric can be limited by its type. Other things to note include the fit, durability, and feel of the fabric.
Here's the list of things to keep in mind for each fabric!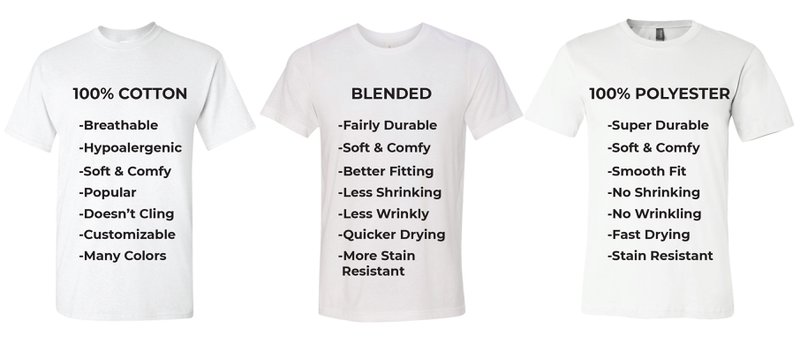 Use Cotton When:
You want soft, breathable fabric
You need a bright, vivid print
You need a shirt for general events and large-scale orders
You want a lot of variation in color and customizations
You need hypoallergenic garments
Use Polyester When:
You have moisture-wicking needs
You need team jerseys or shirts for sporting events
You want a smooth fit
You want no shrinking or wrinkling
You need fast drying, stain resisting garments
Use A Blend When:
You need breathable, but still moisture-wicking fabric
You want a comfy, cooling feel
You need a fairly durable garment
You want a vintage or faded print
You want a super soft feel
You need a fairly stain resistant garment
See the Difference for Yourself
Want to browse these options yourself? Kick Print has a wide selection of fabrics, from Tri-Blend to 60/40, 50/50, 100% Cotton, and more! Browse those options below!
Browse our Apparel
Have some questions about fabric? Our team loves helping people find the perfect "fit" for them (pun intended). Contact us below!
Get in Touch
-Kick Print Team